BIG MOUTH
---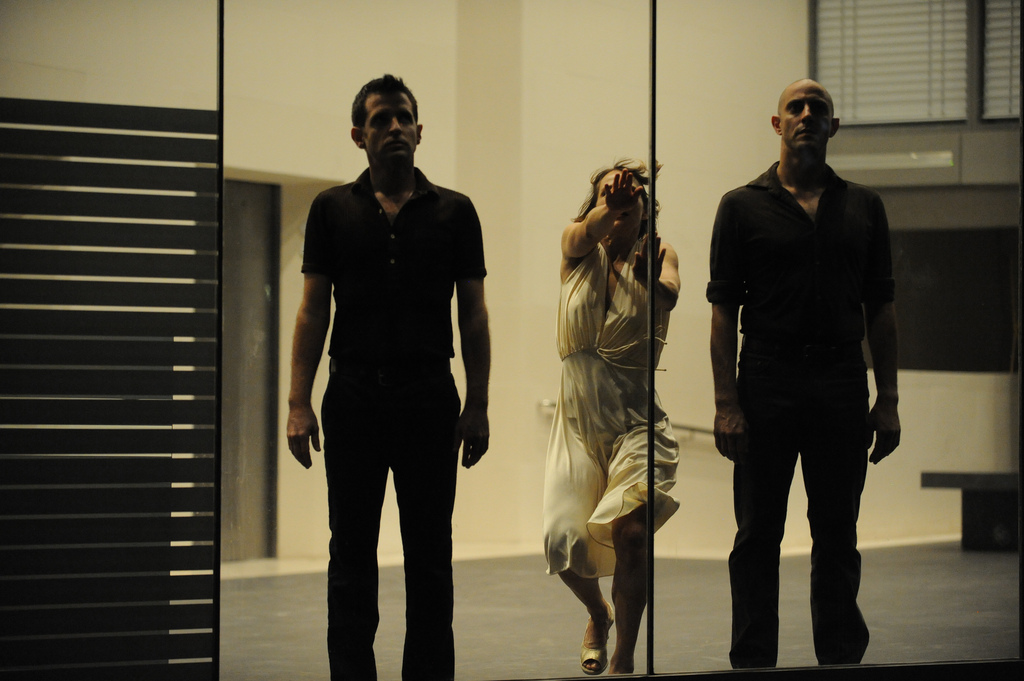 In collaboration with Niv Sheinfeld and Oren Laor
Three performers fall into a march based on Israeli folk dance steps.
"The hymn of the heroic Israeli 7th armoured corps' brigade" and other cornerstones of the national cannon blast out into the space, demanding unity and conformity. The performers become trapped in a conflict between the insistence of the system and their inner needs.
Deeply personal, BIG MOUTH examines the clash which erupts between the individual identity and the Israeli collective.
"
The rigor of the choreographic line is impressive with its forced march based on folk dance steps, cleverly composed into a tight unisson. A mouth opens gradually with a silent agony that resembles Francis Bacon's 'cry'. Simple yet virtuoso, abstract yet significant, the piece leaves a strong impression
".
Agnes Izrine, "Danser" February 2010, France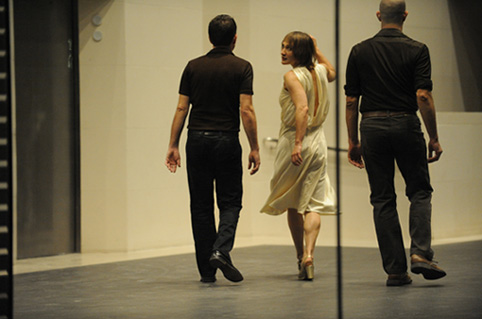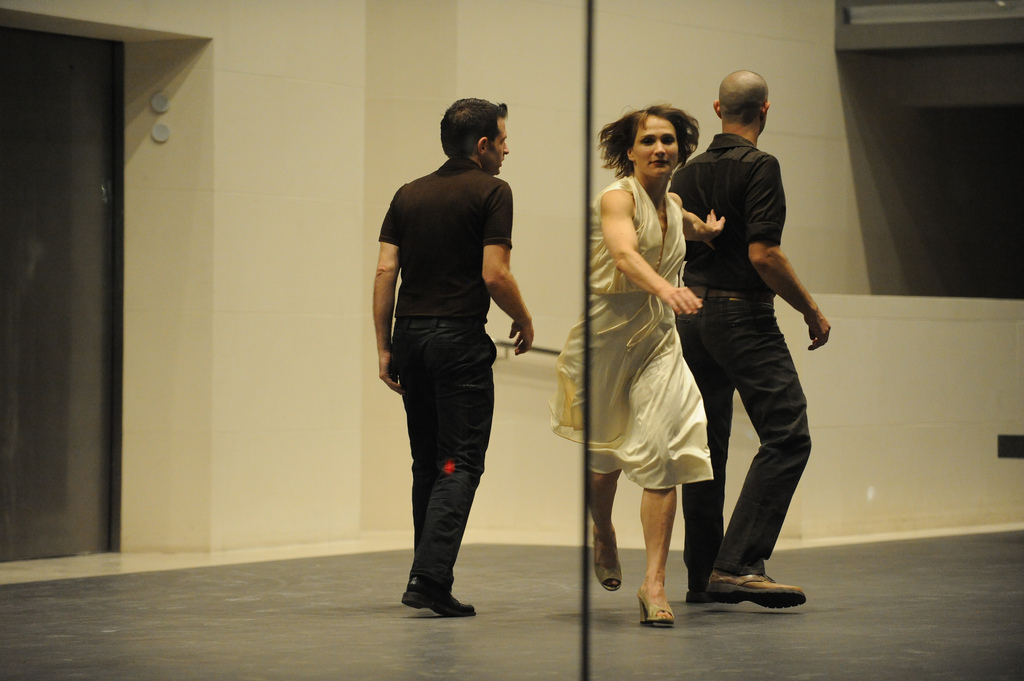 © Gadi Dagon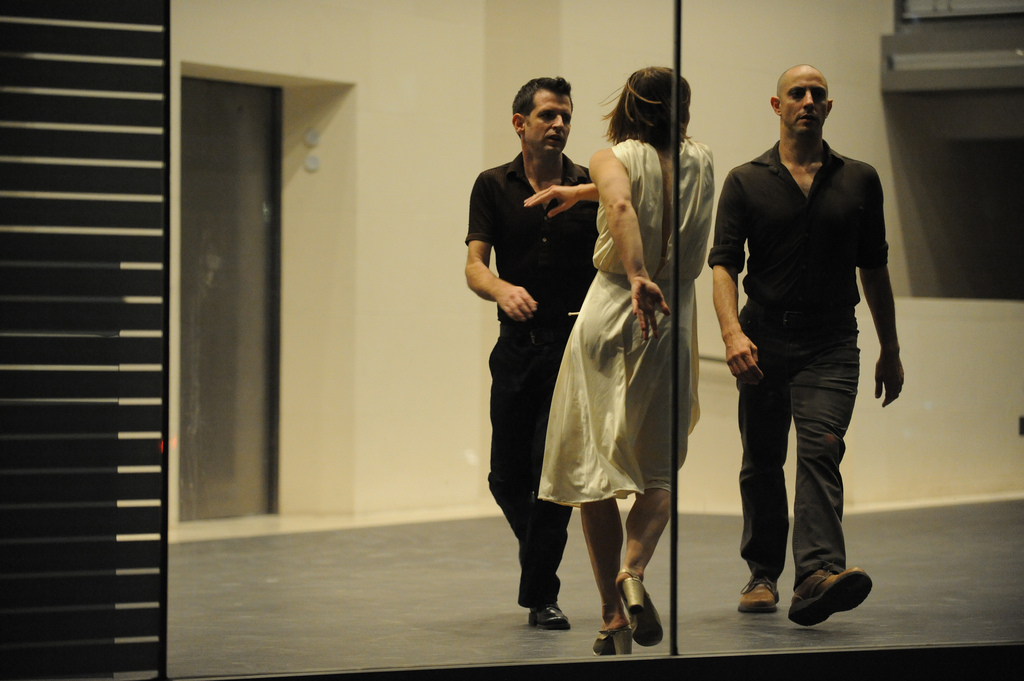 © Gadi Dagon
© Gadi Dagon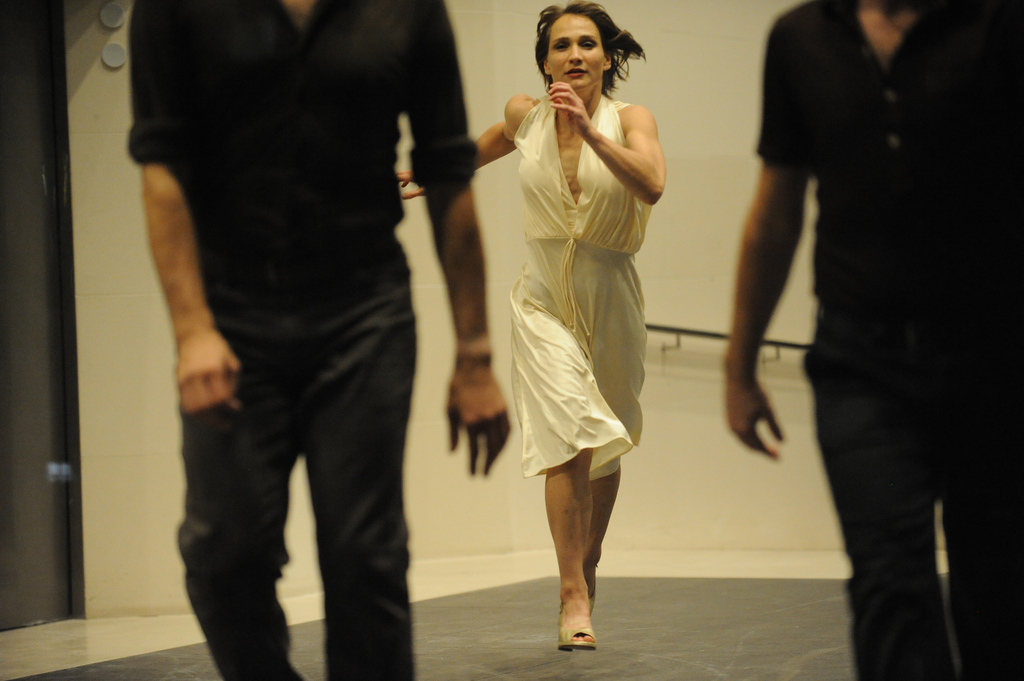 © Gadi Dagon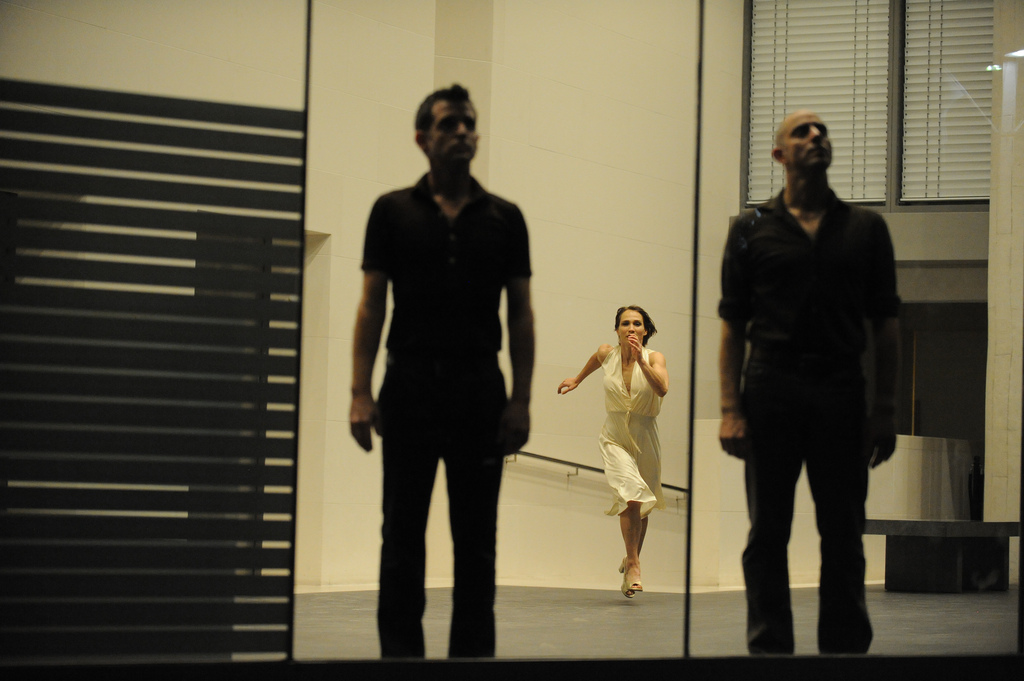 © Gadi Dagon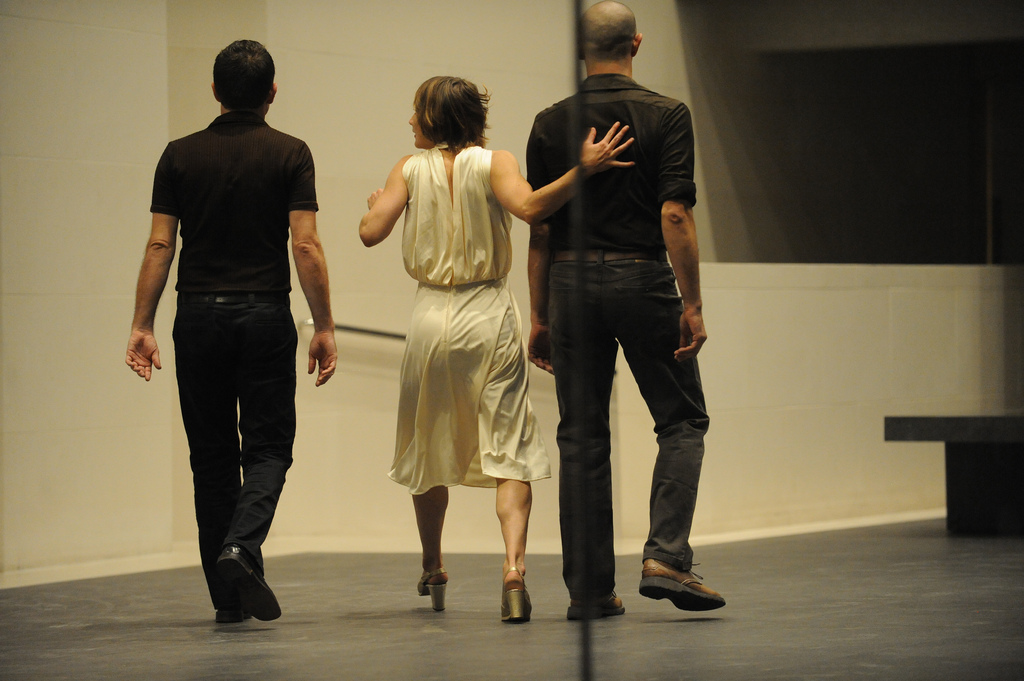 © Gadi Dagon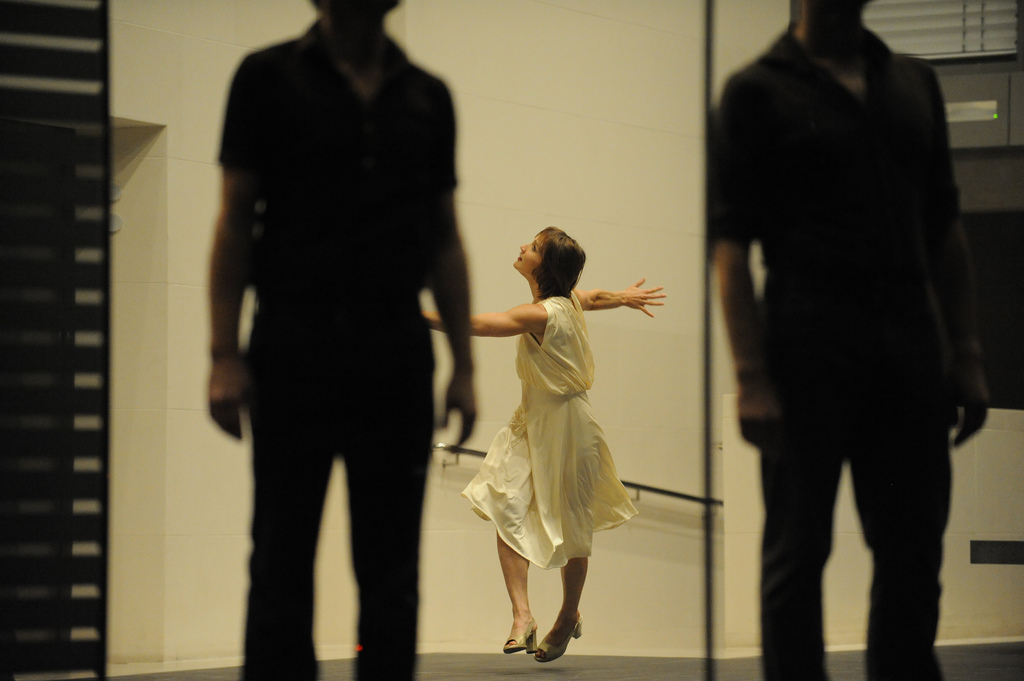 © Gadi Dagon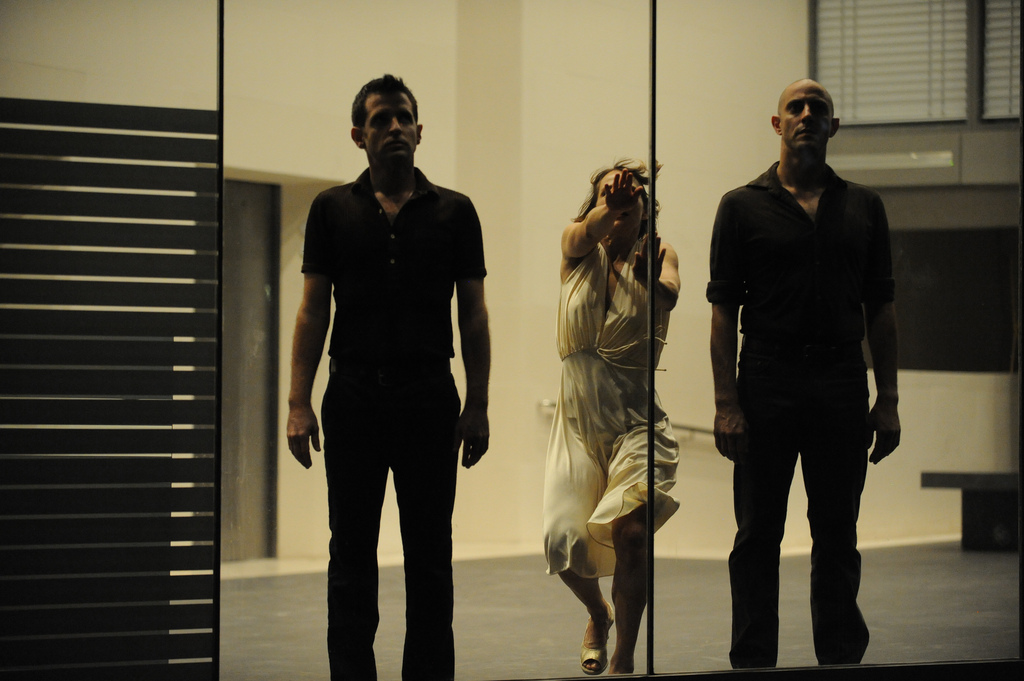 © Gadi Dagon
---
Credits
Made by Keren Levi , Oren Laor, Niv Sheinfeld
Dance Keren / Reut Levi, Oren Laor, Niv Sheinfeld
Soundtrack editing and original score: Didi Erez
Music: Korim Lanu Lalechet – Effi Netzer, Hymn of Israeli brigade 7 – Ori Vidislavsky
Rehearsal manager: Karmit Burian
Light design: Netta Koren
Costumes: Mirit Weinstock
Production: Niv Sheinfeld & Oren Laor dance Projects, Tel-Aviv, Israel
Co-production: Grand Theatre, Groningen NL
Supporters: Israeli Ministry of culture – dance department, Israel Festival, The Gay center, Dansmakers Amsterdam NL (DMA)
Contact for booking: Niv Sheinfeld (+972) 523749571 nivsheinfeld@gmail.com , Oren Laor (+972) 542008344 orenlaor@gmail.com
---
Calendar
| | | | |
| --- | --- | --- | --- |
| 04/07/2021 | 04/07/21 | Tanzbiennale Hieldeberg | Heidelberg, DE |
| 15/05/2021 | 15/05/21 | Dance Munchen | Munich, DE |
| 14/05/2021 | 14/05/21 | Dance Munchen | Munich, DE |
| 05/09/2014 | 05/09/14 | Pumpenhaus | Münster, DE |
| 06/07/2013 | 06/07/13 | Beijing NanLuoGuXiang Performing Arts Festival | Beijing, CN |
| 05/07/2013 | 05/07/13 | Beijing NanLuoGuXiang Performing Arts Festival | Beijing, CN |
| 10/05/2013 | 10/05/13 | Heilbronn Theatre | Heilbornn, DE |
| 17/11/2012 | 17/11/12 | Grand Theatre | Groningen, NL |
| 15/11/2012 | 15/11/12 | Palais des Boux Arts | Charleroi, BE |
| 14/11/2012 | 14/11/12 | Palais des Boux Arts | Charleroi, BE |
| 09/11/2012 | 09/11/12 | CND / Centre Nationale de la Danse | Paris, FR |
| 08/11/2012 | 08/11/12 | CND / Centre Nationale de la Danse | Paris, FR |
| 07/11/2012 | 07/11/12 | CND / Centre Nationale de la Danse | Paris, FR |
| 22/03/2012 | 22/03/12 | Tmuna | Tel-Aviv, IL |
| 16/01/2012 | 16/01/12 | Lakeside Arts Centre | Nottingham, GB |
| 07/12/2011 | 07/12/11 | Klap/Kelemenis | Marseille, FR |
| 06/12/2011 | 06/12/11 | Klap/Kelemenis | Marseille, FR |
| 24/11/2011 | 24/11/11 | Migros Dance Festiva | St. Gallen, CH |
| 23/11/2011 | 23/11/11 | Migros Dance Festiva | St. Gallen, CH |
| 19/11/2011 | 19/11/11 | Migros Dance Festival | Basel, CH |
| 09/10/2011 | 09/10/11 | YOUNG CHOREOGRAPHERS PLATFORM | Zagreb, HR |
| 30/09/2011 | 30/09/11 | Sofia Dance Week festiva | Sofia, BG |
| 22/09/2011 | 22/09/11 | Tmuna | Tel-Aviv, IL |
| 01/07/2011 | 01/07/11 | Montpellier Danse | Montpellier, FR |
| 30/06/2011 | 30/06/11 | Montpellier Danse | Montpellier, FR |
| 14/06/2011 | 14/06/11 | The Place | London, GB |
| 05/06/2011 | 05/06/11 | Tmuna | Tel-Aviv, IL |
| 27/01/2011 | 27/01/11 | Tmuna | Tel-Aviv, IL |
| 11/12/2010 | 11/12/10 | Susan Dallal | Tel-Aviv, IL |
| 10/12/2010 | 10/12/10 | Tmuna | Tel-Aviv, IL |
| 17/10/2010 | 17/10/10 | Autumn Festival | Budapest, HU |
| 16/10/2010 | 16/10/10 | Autumn Festival | Budapest, HU |
| 25/09/2010 | 25/09/10 | Mousonturm | Frankfurt am Main, DE |
| 24/09/2010 | 24/09/10 | Mousonturm | Frankfurt am Main, DE |
| 22/09/2010 | 22/09/10 | Pumpenhaus | Münster, DE |
| 03/09/2010 | 03/09/10 | Tanz Im August | Berlin, DE |
| 02/09/2010 | 02/09/10 | Tanz Im August | Berlin, DE |
| 27/08/2010 | 27/08/10 | noorderzon festival | groningen, NL |
| 26/08/2010 | 26/08/10 | noorderzon festival | groningen, NL |
| 24/07/2010 | 24/07/10 | Tmuna | Tel-Aviv, IL |
| 23/07/2010 | 23/07/10 | Tmuna | Tel-Aviv, IL |
| 09/07/2010 | 09/07/10 | Julidans | Amsterdam, NL |
| 08/07/2010 | 08/07/10 | Julidans | Amsterdam, NL |
| 18/01/2010 | 18/01/10 | | |
| 09/01/2010 | 09/01/10 | | |
| 04/01/2010 | 04/01/10 | | |
| 13/12/2009 | 13/12/09 | | |
| 12/12/2009 | 12/12/09 | | |
| 04/12/2009 | 04/12/09 | | |
| 30/11/2009 | 30/11/09 | | |
---
Reviews