UNMUTE
---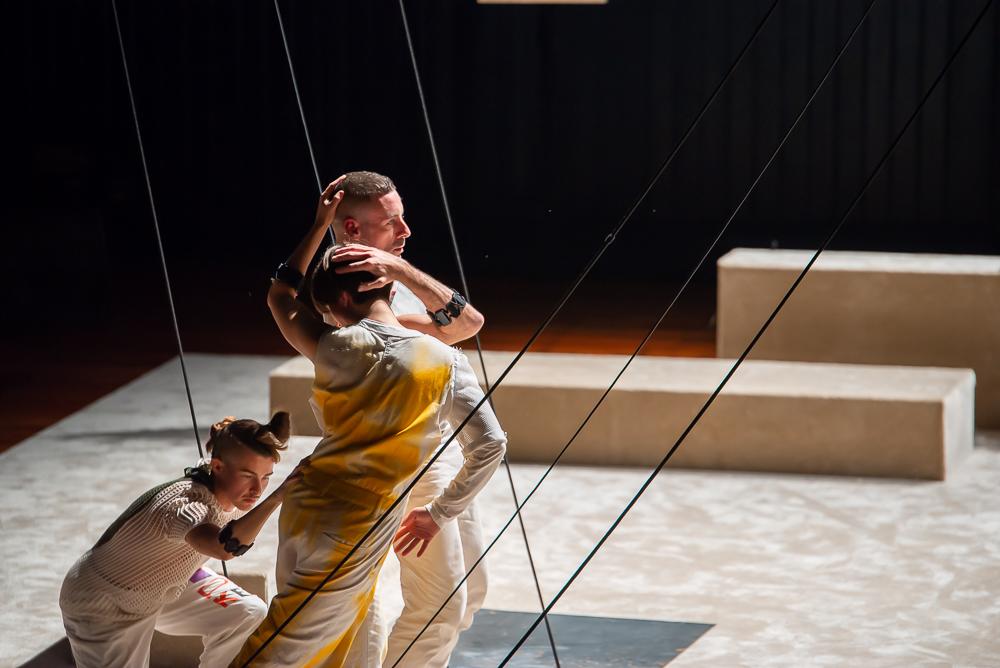 UNMUTE is a concert and a dance performance, a hybrid outcome of a creative encounter between choreographer Keren Levi and composer Yannis Kyriakides. It is a musical and visceral event for and by three dancers and two musicians - members of percussion ensemble Slagwerk Den Haag. With this shared work, Levi and Kyriakides are entering an area where technology and the physical skills of dancers and musicians play upon each other, weaving together movement score, live music and a soundscape of digitally processed voices. In the midst of the technological entanglement between bodies and musical composition that those bodies initiate and perform, a pattern of speech gradually emerges. The dancers and musicians are channelling fields of computer generated voices and layers of sounds through mediation of sensors worn on their arms. Spoken fragments, detached from their physical origin, keep hovering over the embodied landscape. Performers on stage are paradoxically both in control and controlled by them. Being messengers of the invisible, carriers of cultures both forgotten and not yet existent, as prophets, mediums, daemons and cyborgs, the performers are at the same time speaking to us and for us. They are un-muting the otherness of languages already dead and still unborn. Languages which, like music that is carrying them, are not voicing anything else but an urgent need to be heard.
Rather than demanding from the spectator to focus on a content/meaning of speech, this embodied yet abstract choreography of gestures is expressing pure desire to communicate (in sound and in movement). The spectator's attention is redirected away from the message and toward a medium: a virtual sphere of "speak-ability" inside of which space is created for the mute to articulate its own demand to be heard. In that no-man's land, that zone between ancient and post-human technologies, an opportunity for transformation and emancipation arise.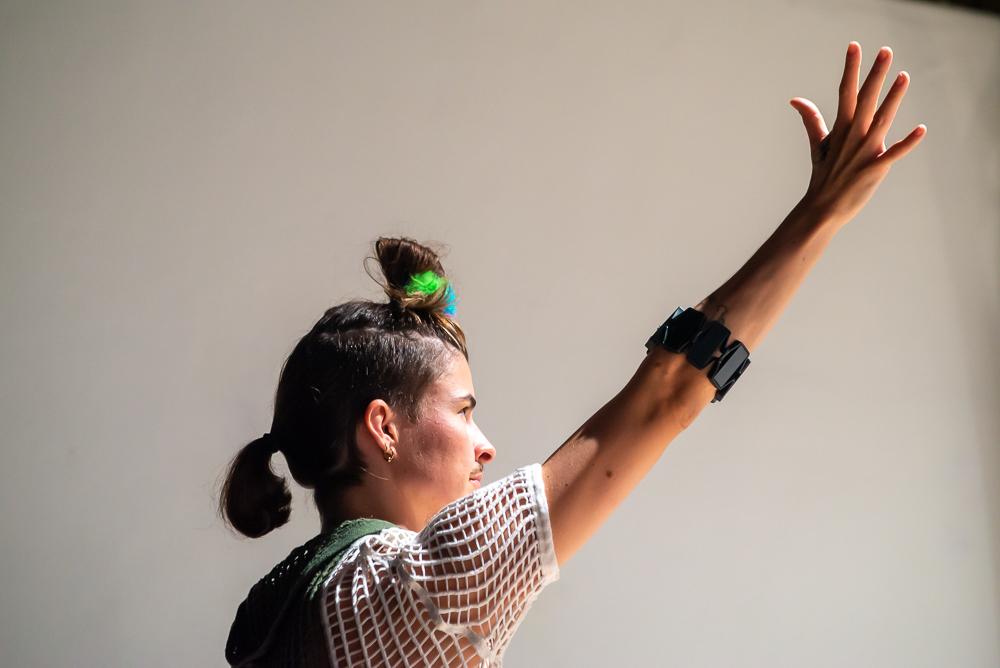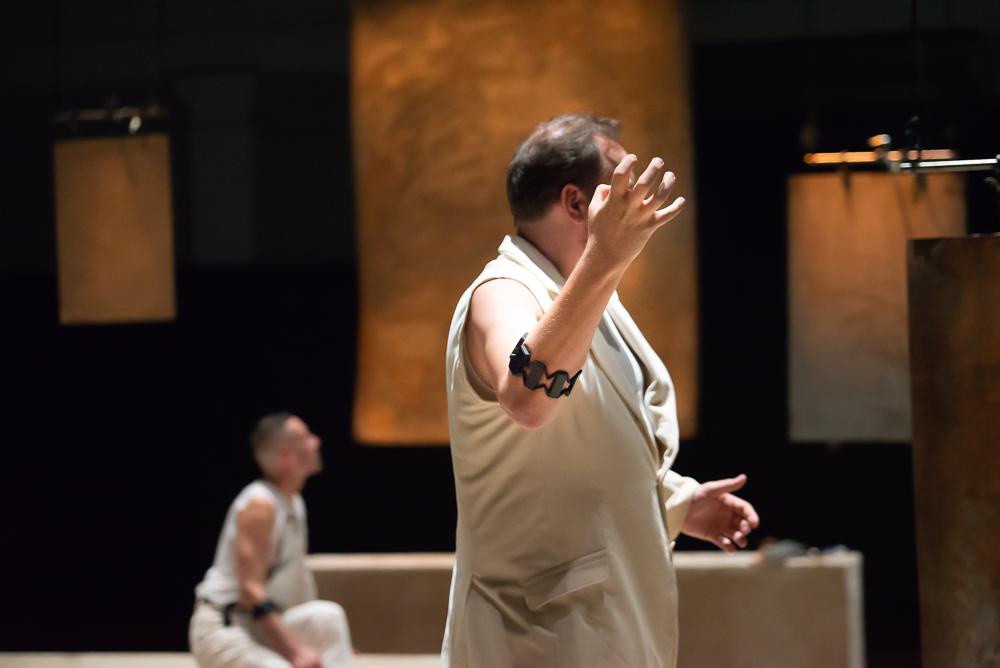 © Eti Steinberg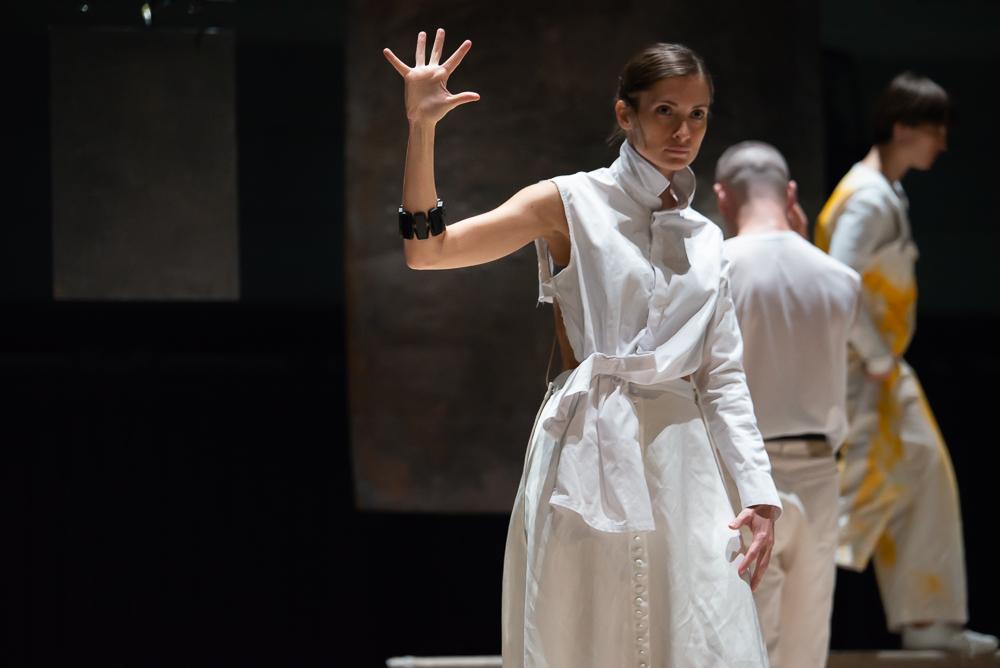 © Eti Steinberg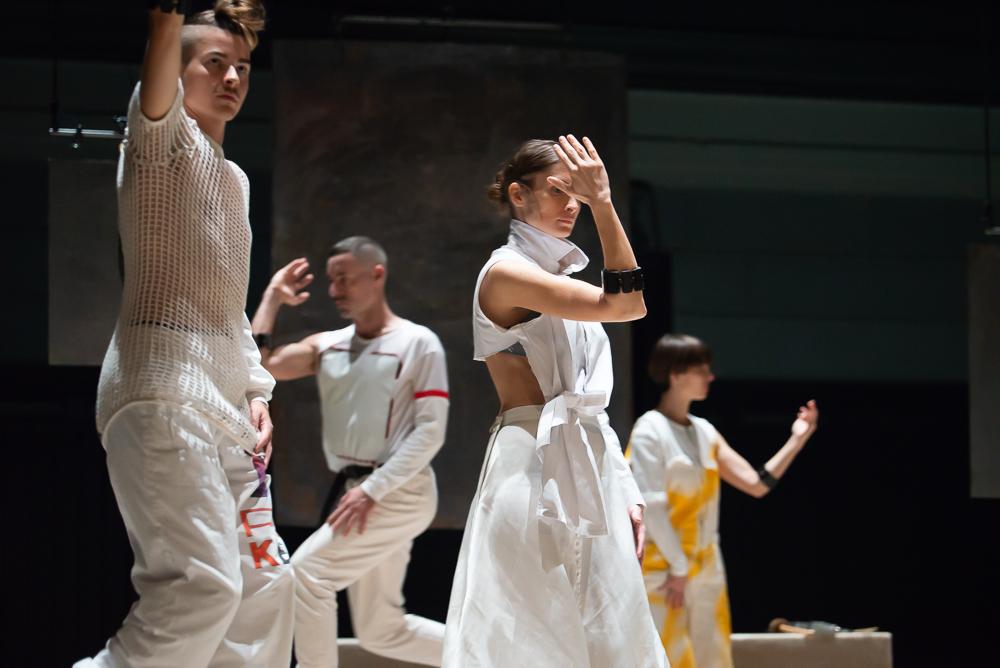 © Eti Steinberg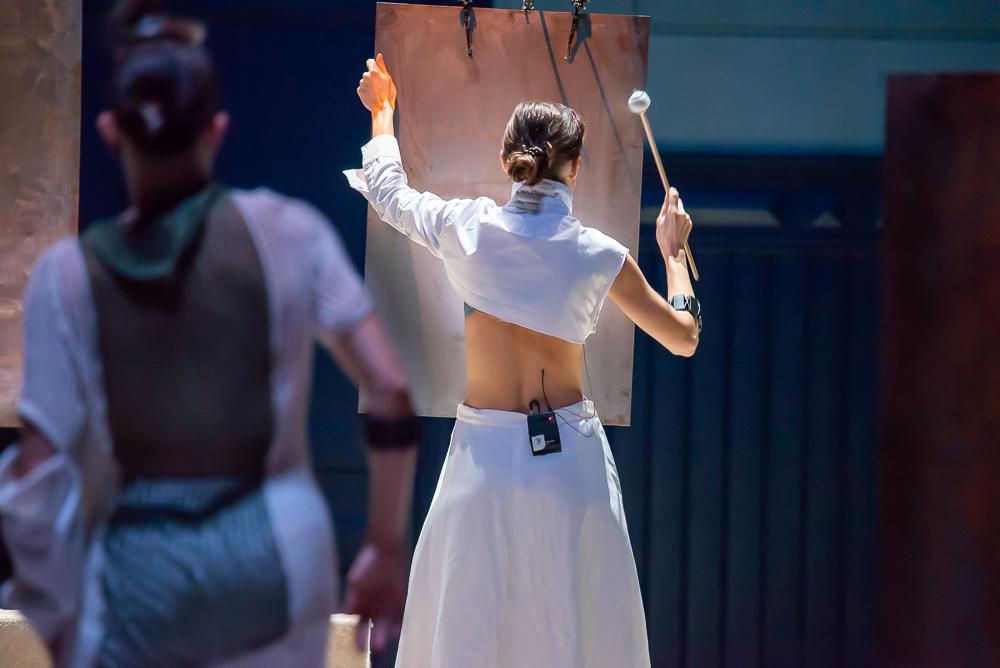 © Eti Steinberg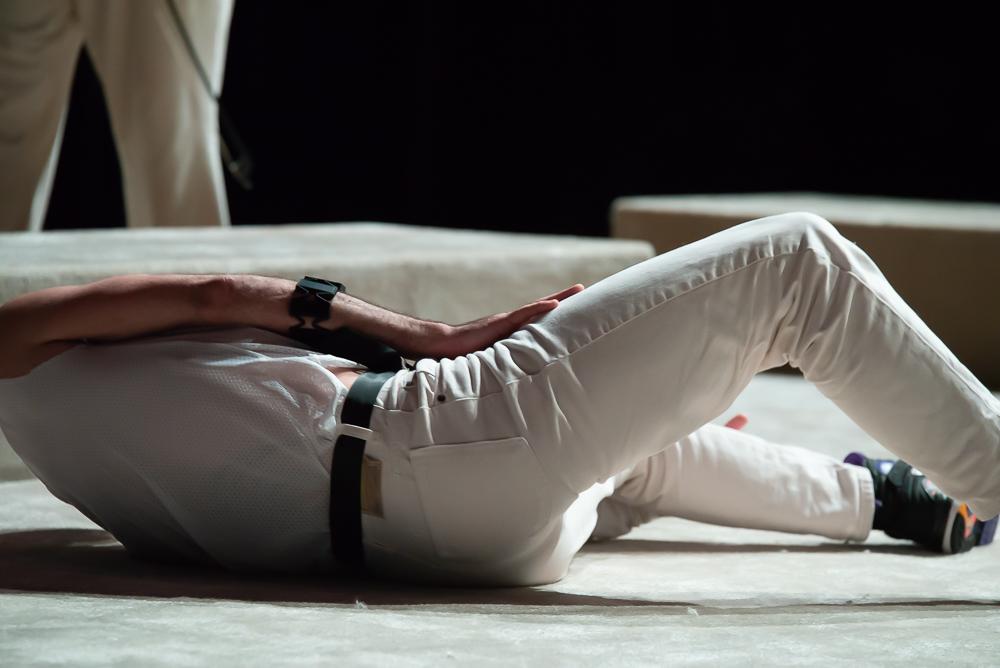 © Eti Steinberg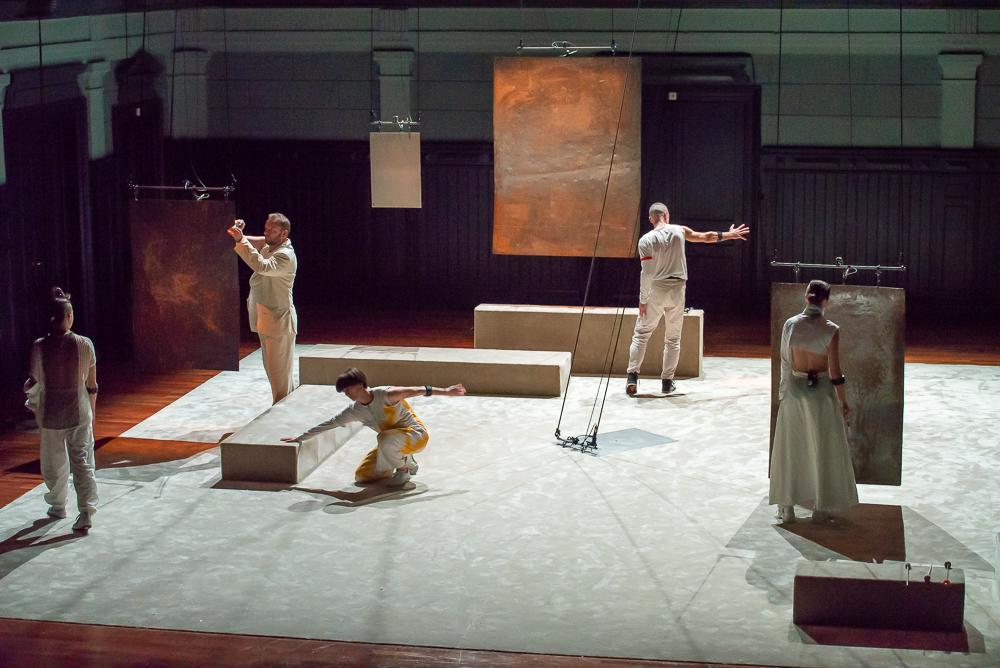 © Eti Steinberg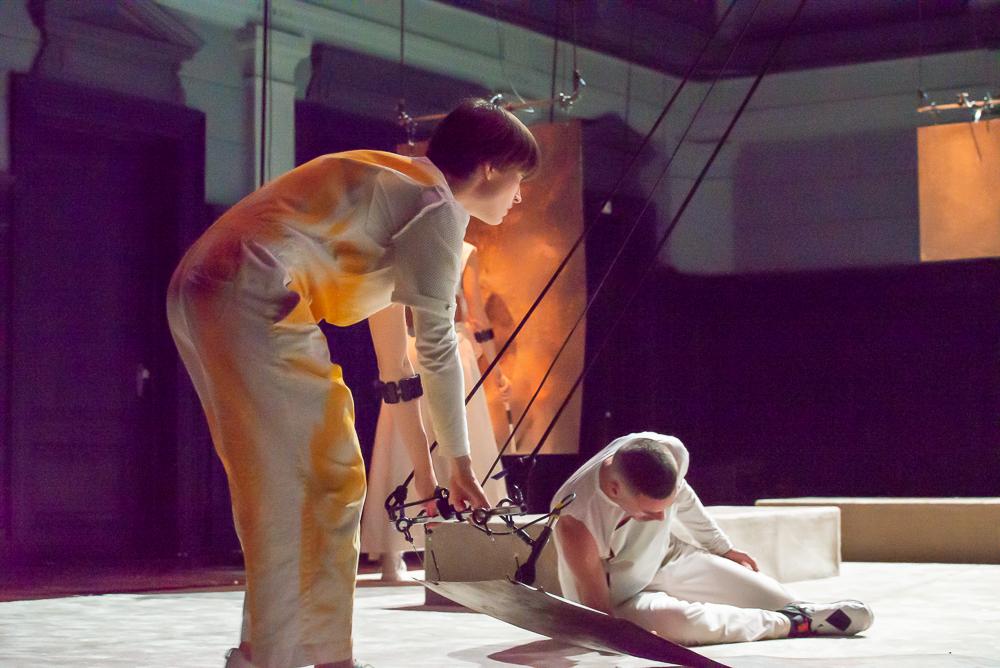 © Eti Steinberg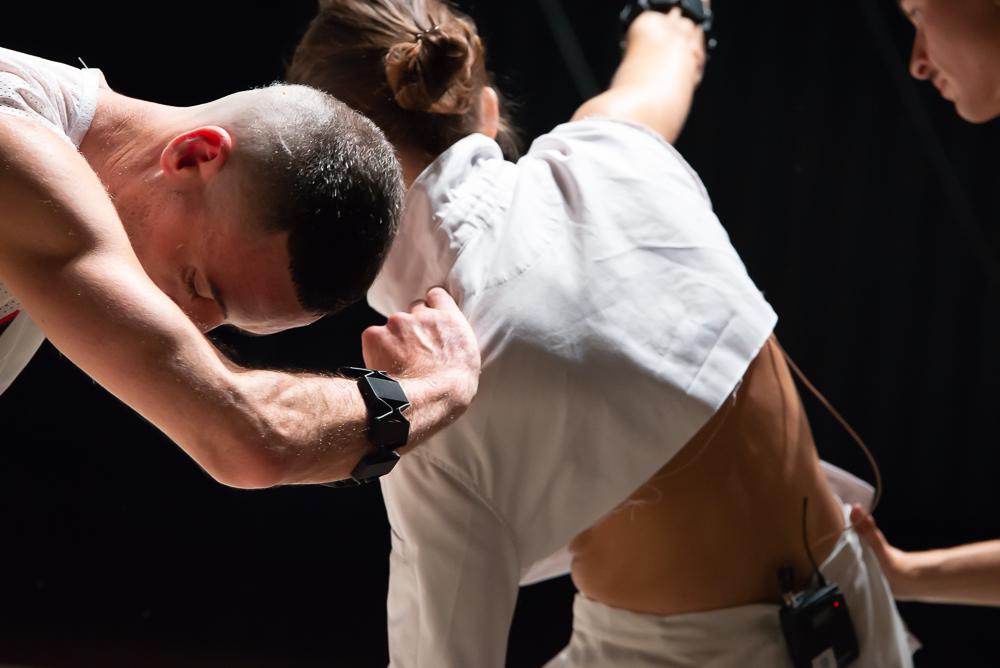 © Eti Steinberg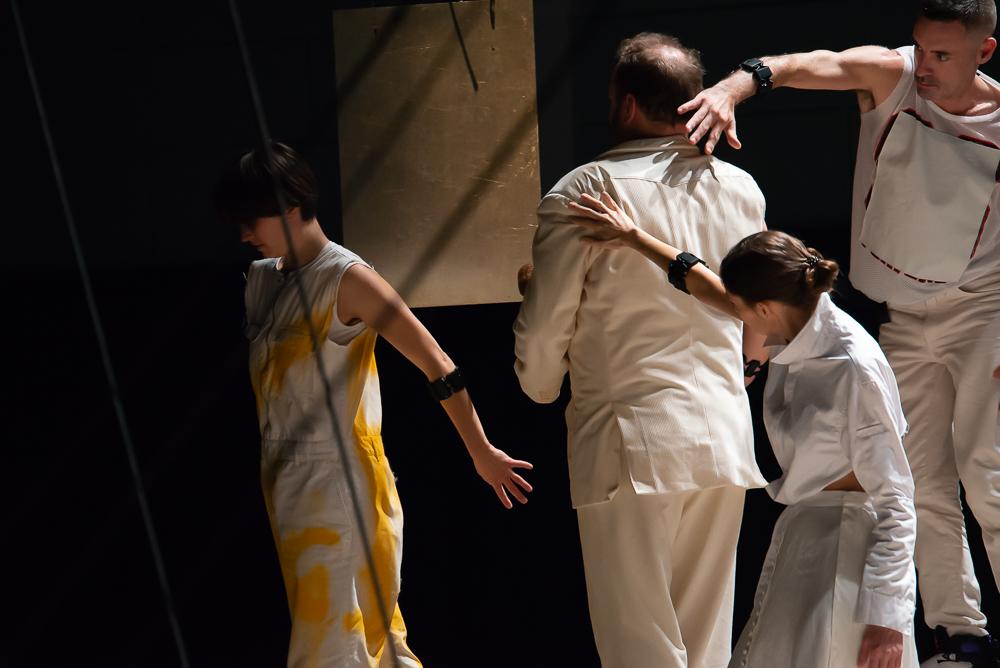 © Eti Steinberg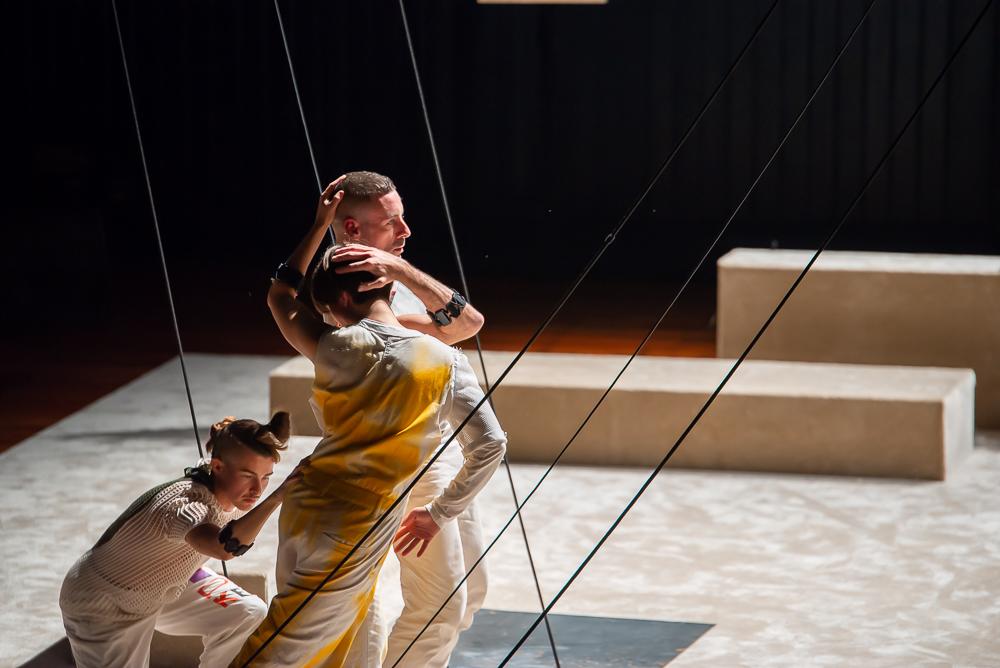 © Eti Steinberg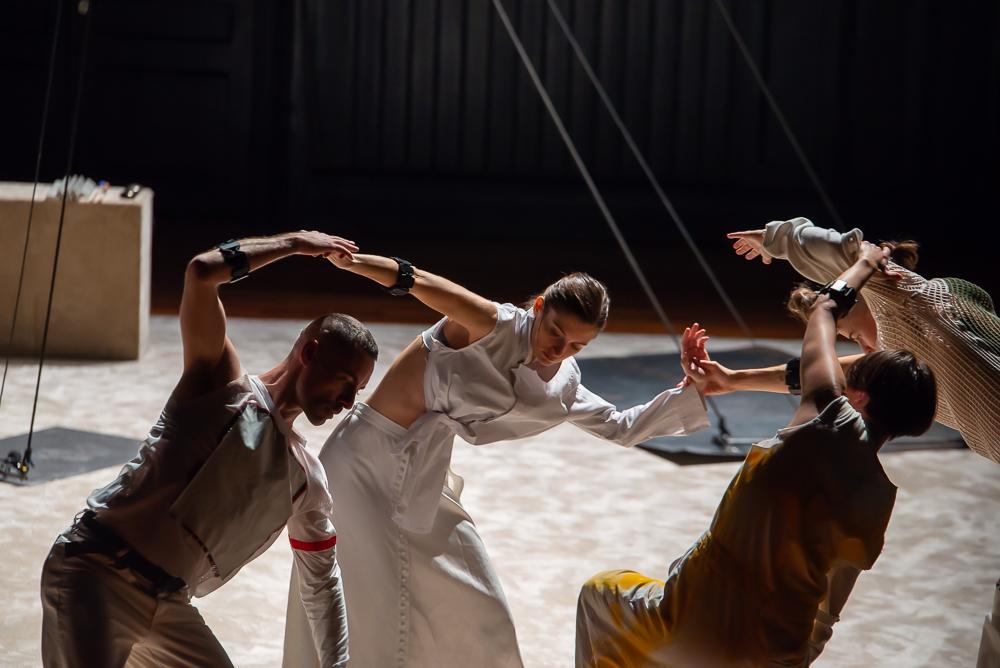 © Eti Steinberg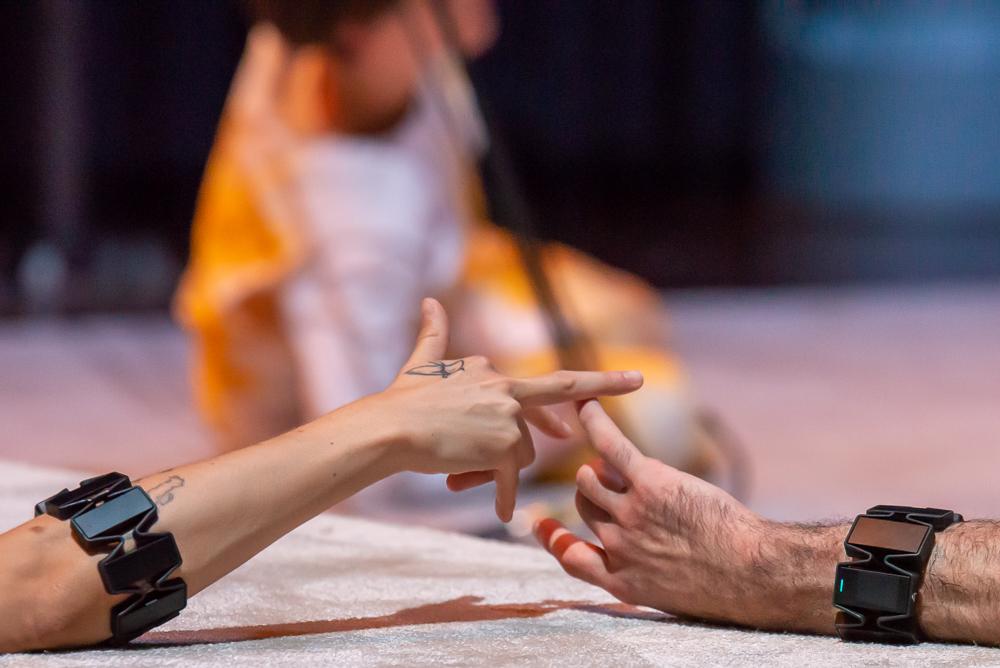 © Eti Steinberg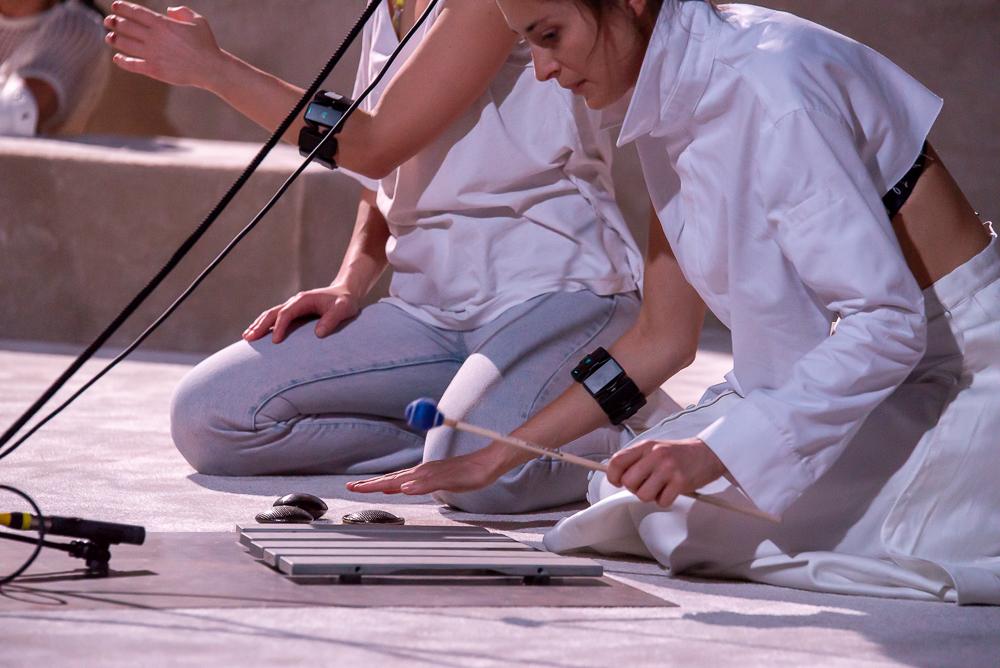 © Eti Steinberg
---
Credits
Concept and Choreography Keren Levi
Concept and Musical Composition Yannis Kyriakides
In collaboration with:
Performance, Music and Choreography Eva Susova, Charlie Laban Trier, Matthew Day, Fedor Teunisse, Marianna Soroka, (Pepe Garcia in the development stage)
Dramaturgal advice Igor Dobričić
Sensor Server and Software Development Darien Brito
Sensor System and Sound Technique Michele Abolaffio
Light Desgin and Technique Martin Kaffarnik
Styling (Marrianna, MAtthew, Charlie & Eva) Ginta Tinte
Photography Eti Steinberg, Assi Weitz
Graphic Design Miritte Ben Yitzchak
Management and Strategy Jette Schneider (NeverLike/Transistor) Liesbeth Kok (Slagwerk Den Haag)
Fund-raising and Concept Development Judith Schoneveld (NeverLike/Transistor)
Marketing and PR Liorah Hoek (NeverLike), Marije de Graaf (Slagwerk Den Haag)
Production Stephie Kolman (Slagwerk Den Haag)

Premiere October 3rd, 2019 | Festival Nederlandse Dansdagen, Maastricht NL

UNMUTE is a co-production of Keren Levi | NeverLike and Slagwerk Den Haag and is funded by Performing Arts Fund NL, Norma Fund, Creative Industries Fund NL and Amsterdam Fund for the Arts. With the support of Veem House for Performance, BAU dance & performance platform Amsterdam & ICK Amsterdam .
---
Calendar
| | | | |
| --- | --- | --- | --- |
| 26/09/2020 | 26/09/20 | Forum Freies Theater | Düsseldorf, DE |
| 25/09/2020 | 25/09/20 | Forum Freies Theater | Düsseldorf, DE |
| 15/02/2020 | 15/02/20 | MEERVART THEATRE | AMSTERDAM, NL |
| 08/02/2020 | 08/02/20 | Theater Im Pumpenhaus | Münster, DE |
| 07/02/2020 | 07/02/20 | Theater Im Pumpenhaus | Münster, DE |
| 24/01/2020 | 24/01/20 | LUX | Nijmegen, NL |
| 22/11/2019 | 22/11/19 | chassé theater | Breda, NL |
| 09/11/2019 | 09/11/19 | Rotterdamse Schouwburg | Rotterdam, NL |
| 06/11/2019 | 06/11/19 | Ins Blau | Leiden, NL |
| 31/10/2019 | 31/10/19 | Korzo theater | Den Haag, NL |
| 26/10/2019 | 26/10/19 | Theater Kikker | Utrecht, NL |
| 19/10/2019 | 19/10/19 | Frascati | Amsterdam, NL |
| 18/10/2019 | 18/10/19 | Frascati | Amsterdam, NL |
| 17/10/2019 | 17/10/19 | Frascati | Amsterdam, NL |
| 05/10/2019 | 05/10/19 | Nederlandse Dansdagen | Maastricht, NL |
| 03/10/2019 | 03/10/19 | Nederlandse Dansdagen | Maastricht, NL |
| 05/09/2019 | 05/09/19 | Gaudeamus | Utrecht, NL |
---
Reviews