KEREN LEVI | BIOGRAPHY
Keren Levi is a choreographer who lives in Amsterdam. Her company's name is NeverLike, it receives support from local, national, public and private foundations.
Levi's work is idiosyncratically choreographic and multidisciplinary by nature. Her adventurous music-dance-video performances have a conceptual basis and are structured musically. Levi has a feminist focus and creates a heterogeneous image of women in all aspects of her work. In her process the question arises what dance is, and what role dance can play in a broader socio-political context. Among others, Levi changes dance into an area where social conventions and expectations become visible. >>> click on the photo above for further reading<<<
---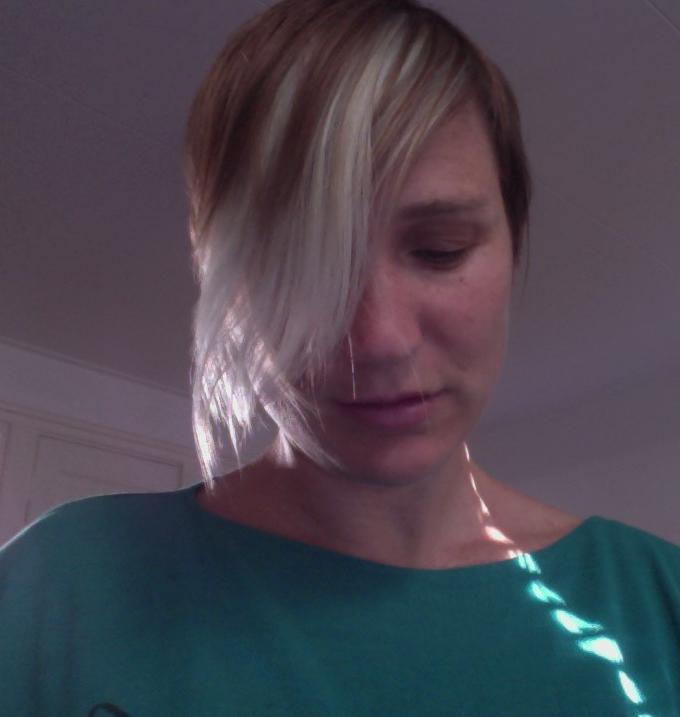 As a young dancer Levi danced in Israel with Kibbutz Dance Company (1991-1994) and later on with Batsheva Ensemble (1994-1996). After leaving Israel, for a couple of years Levi was engaged with different dance projects across Europe till she finally settled in Amsterdam around 1998. Over the years Levi's practice gradually shifted from freelance dancing, becoming more and more focused on developing her own choreographic artistry, alongside teaching, coaching, advising, curating and performing in her own work.

As a choreographer, Levi has built a versatile body of works, including among others; Territory (2004), a live music-video dance performance about different forms of identity framing, Levi's first full-length performance in collaboration with composer Tom Parkinson (UK) and media artist Tammiz Binshtock(IL), which won them a BNG award - a commission for new work, titled The Prize Piece (2007), which dealt with notions of ambiguity, between pain and pleasure, prize and punishment; Couple-Like (2006), a hyper-physical yet reduced duet made and performed together with flemish choreographer Ugo Dehaes, that was presented over 100 times in The Netherlands and across Europe and was followed with a version for youngsters, Couple-Like #2 (2010), a remake that won Levi and Dehaes the dutch Silver Cricket award for 2011; about the state of availability from the perspective of the performer, in 2007 Levi received a commission from TALA (Zagreb/HR) to create Out of Service (2007), a work made together with a local cast of 5 dancers and actors; Big Mouth (2009), a trio inspired by military marching and Israeli's folk-dances, made and performed together with Tel-Aviv based due makers Oren Laor and Niv Seinfeld, that has enjoyed a major tour in Europe and USA, along continuous shows in Israel and is still on tour.
In the spring of 2012 Levi premiered the live video-dance performance The Dry Piece at the opening program of Festival a/d Werf, Utrecht. A performance for 4 dancers veiled behind a projection screen, inspired by Busby Berkeley's water ballets, The Dry Piece received a Dioraphte Award during Dutch Dance Days Festival 2013. After extensive touring, Levi made The Dry Piece | XL Edition, a version for 8 dancers (and more), which premiered in Julidans Festival 2016. That year Levi also created Upside Down, a live video-dance performance for children age 4+ and a collaboration with Stockholm based choreographer Dalija Acin Thelander, which received support from an international co-production with partners from Poland, Serbia, Sweden and The Netherlands. This interactive piece utilized the video installation Levi developed for The Dry Piece, which was placed in a different context, focusing on a perpetual interplay between objects, image making and dancing.
Between autumn 2012 and summer 2014 Levi participated in the MA program in Amsterdam Master of Choreography (AMCh), at The Amsterdam School of the Arts (AHK), where she researched "Footnoting", an embodied practice of footnotes and other forms of commentaries. During that period Levi was part of the core group - together with Nicole Beutler, Andrea Bozic, Julia Willms, Eva Villanueva and Anne Breuer - which initiated BAU, a platform for dance and performance in Amsterdam. In addition to a development institute, BAU has grown to become a prominent organization which lobbies to improve the working conditions and prospects for independent makers in The Netherlands. The exchange with this group of artists and producers has also led to the initiation of 'Come Together', a series of gathering in Frascati Theatre Amsterdam, which presents works of Amsterdam based artists in different stages of development ( ongoing since 2014) and "Polyphonic Songs'', a short-lived yet vivid program presented in Veem House for Performance Amsterdam (2018/2020).
Following her graduation from the AMCh and the birth of her twins Ella (girl) and Gomme (boy) in 2014, Levi premiered Clubbing, a music-dance performance, which continued Levi's long-term exchange with composer Tom Parkinson. A followup to other research and performances Parkinson and Levi have engaged with over the years , Clubbing marked an important shift in Levi's choreographic practice, as she developed musicdance (a term coined by Levi, after musictheatre) as a kinship practice between music and dance, sound and movement.
During 2017-2024 NeverLike received structural funding support from Amsterdam funds for the Arts (AFK). During that period Levi created three musicdance performances: Footnotes (for Crippled Symmetry) (2017), yet another collaboration with Parkinson, who created a sound score after Morton Feldman's music, and an exchange with artist Krijn de Koning who made an artwork especially for this performance; To Voice (2018), created with amateurs actors, Levi's first outdoor performance and a collaboration with dutch theatre makers Elike Roover & Rutger Esaias, in co-production with Degasten and Bos Theatre Amsterdam; unmute (2019), made together with composer and sound artist Yannis Kyriakides (GR/NL) and percussion group Slagwerk Den Haag, is an embodied music composition for 5 performers, sensors and thunder sheets.
Outside the trajectory of the structural program, Levi completed a 13 minutes long documentary-dance film about the ballroom scene, Otherland (2018) , in collaboration with director Jan Pieter Tuinstra. The film premiered in the Cinedans Festival and was shown at many festivals around the world. In response to the surplus of collaborative processes, both professional and personal, in 2018 Levi began working on a solo project Departing Landscapes, thanks to the support of Veem House for Performance Amsterdam and Theater Im Pumpenhaus, Münster. A farewell to her deceased grandmother and an exercise in memory, this solo project gained a second edition There She Is, which Levi continues touring throughout season 2021-22.
Levi's latest ensemble work, In Service (2020), a commission from Norrdans, a company in north Sweden, for 8 dancers inspired by 1970's disco dancing and thoughts about communality, which was due to premiere at the end of March 2020, was canceled due to the outbreak of coronavirus.
Other than Parkinson, Levi's long-standing collaborators are creative producer Judith Schoneveld, audiovisual artist Assi Weitz and dramaturge Igor Dobričić. Dobričić is engaged with Levi's work as a dramaturge with most of her works since 2005. The two are also sharing a teaching practice, guiding together REWORK, a workshop for 2nd year students at The School for New Dance Development (SNDO). With Weitz Levi has collaborated in the creation of their children and in the making of variety of video works such installations for stage performances, short films and promo material. Schoneveld is supporting Levi's work with advice, strategy and planning, as well as fundraising and networking.